The doors are open, the breeze is flowing through the house and the smell of pumpkin fills the air. Alistair is resting his tired eyes, and Edward and I are patiently awaiting warm pumpkin chocolate chip mini muffins to come out of the oven. Edward loves to help bake, and he had such a fun time helping me prepare these! Alistair is in for a treat when he awakes!
These pumpkin muffins are most certainly one of my favorite go to Fall recipes. I try to bake them at least once every Fall but usually end up making them a couple of times because we love them so much! As I type this Edward and Alistair have just gotten done scarfing down a total of 5 combined. I may have even had a couple myself! The mix can be baked as a bread loaf, regular muffins or mini muffins. I normally just do mini muffins – the recipe makes exactly 24! These muffins are good for breakfast as they're not too sweet as well as an afternoon snack. If you have a minute I suggest you try your hand at these; they are quick, easy and no fail! If I can make them, trust me – you can too!
I can't remember where I found this recipe and would love to tag a source. If you happen to come across this and know, please let me know! I found it off of Pinterest years ago and can't find where I saved it.
Enjoy!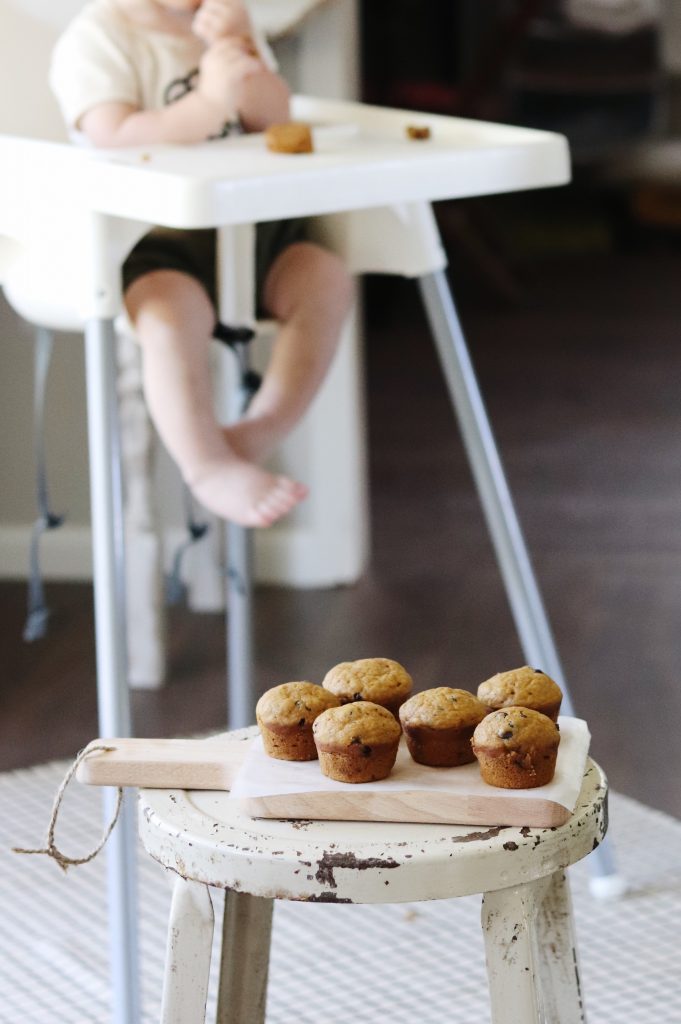 Pumpkin Chocolate Chip Mini Muffins
1 3/4 cups all purpose flour
1 tsp baking powder
1 tsp baking soda
1/2 tsp salt
1 1/2 tsp cinnamon
1/4 tsp nutmeg
1/4 tsp cloves
1/2 cup brown sugar
2 eggs
1 cup pure pumpkin
1/2 cup vegetable oil
1/2 cup milk
1 tsp vanilla
1/2 cup chocolate chips
Preheat oven to 350 degrees. Spray muffin pan with non stick spray or line with cupcake liners

In a large bowl, mix flour, baking powder, baking soda. salt, cinnamon, nutmeg and cloves. Set aside.

In a medium bowl, whisk the brown sugar and eggs together until well combined. Add the pumpkin, oil, milk and vanilla. Pour the wet ingredients into the dry ingredients and stir until just combined. Do not overmix the batter. Fold in the chocolate chips.

Spoon batter 1/3 full into muffin cups. Bake for 15-17 minutes. Allow to cool completely.